Left mouse button: Pan, Highlight & Lock · Mousewheel: Zoom
Copyright Owners
Justified request
Unjustified request
Pending request
⨯
Target Domains
Justified request
Unjustified request
Pending request
⨯
⨯
About this browser
This browser visualizes trends and patterns in Google online takedown requests from copyright owners and governments. It provides a monthly overview of requests and targeted domains or products, ordered by time and volume. Colors indicate if requests were justified, and the degree of copyright infringement of the targets. Extended information about requests and targets can be revealed by hovering or clicking items.
Discovering patterns and trends






Pick a dataset and time period from the list;
Use the left mouse button and scrollwheel to navigate through the visualization;
Hover over a takedown request to explore its correspondending targets;
Hover over a target to see the requests it has been targeted by;
Click on an item to lock the selection;
Use the filters at the bottom to make a selection of the data by keyword;
Share your insights on Twitter, Facebook or Google+.
Visual explanation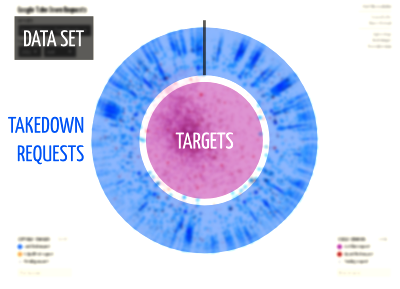 Takedown requests from copyright owners or governments are shown in the outer ring;
Requests are colored blue (Justified) to yellow (Unjustified);
Small requests are shown in the outer rings, large requests in the inner rings;
A ring shows the requests over the course of a month, starting at the top.
Target domains or products are distributed between the requests that target them;
Therefore, general targets are shown in the inner circle, request-specific targets are shown in or near a request;
Targets are colored from purple (requests were mostly justified) to red (requests were mostly unjustified).
Datasets
Removal Requests from Copyright Owners
Removal Requests from Governments
About SUDOX
We are digital innovators with a background in design engineering and information technology; specializing in fresh ideas, beautiful visualizations and stunning interfaces. Our three focus areas are Smart interfaces, Mobile applications and Tailor made software. We deliver integrated projects: from concept and design to realisation and support. See our projects at https://www.sudox.nl for examples of what we deliver. Feel free to contact us to see what we can do for your business.